Cheers to 10 Years // Macy's Culinary Council
One of the many perks of this freelance writing thing is that I get to attend all kinds of fun events and I can usually bring my family and that makes it all the more interesting as we get to experience new things together.
Just in time for real 'fall like weather' Macy's is celebrating 10 years of their Culinary Council and we were invited to attend while Chef Wolfgang Puck performed a demonstration of a few dishes out of his new cookbook.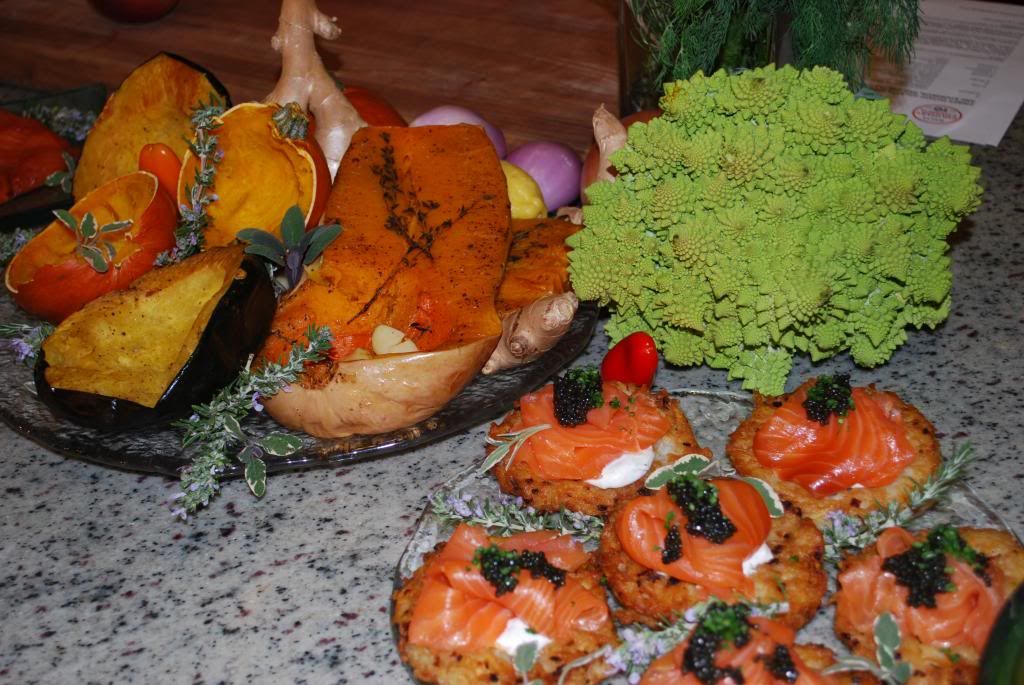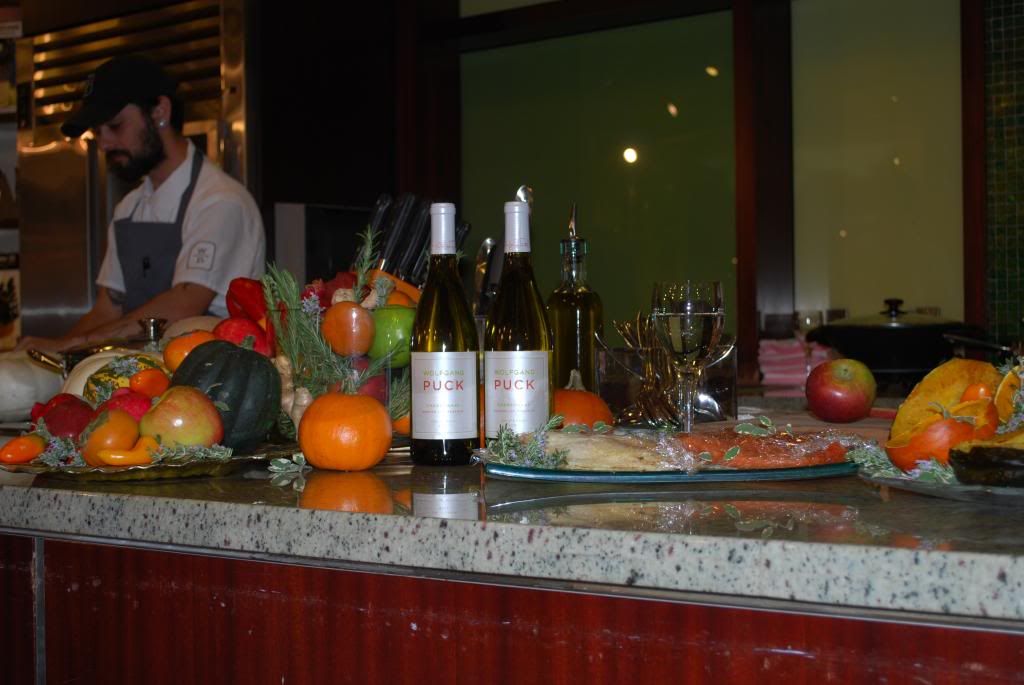 Being a psuedo foodie + huge fan of his since his earlier TV show to his role as a guest judge on Top Chef, I was
beyond
jazzed about going. I was even more excited to take Sweet Pea with me and open her up to a whole new world of tastes. I let her know that she had to at least try a few bites of whatever was being served as a condition of her getting to go and she agreed so off we went.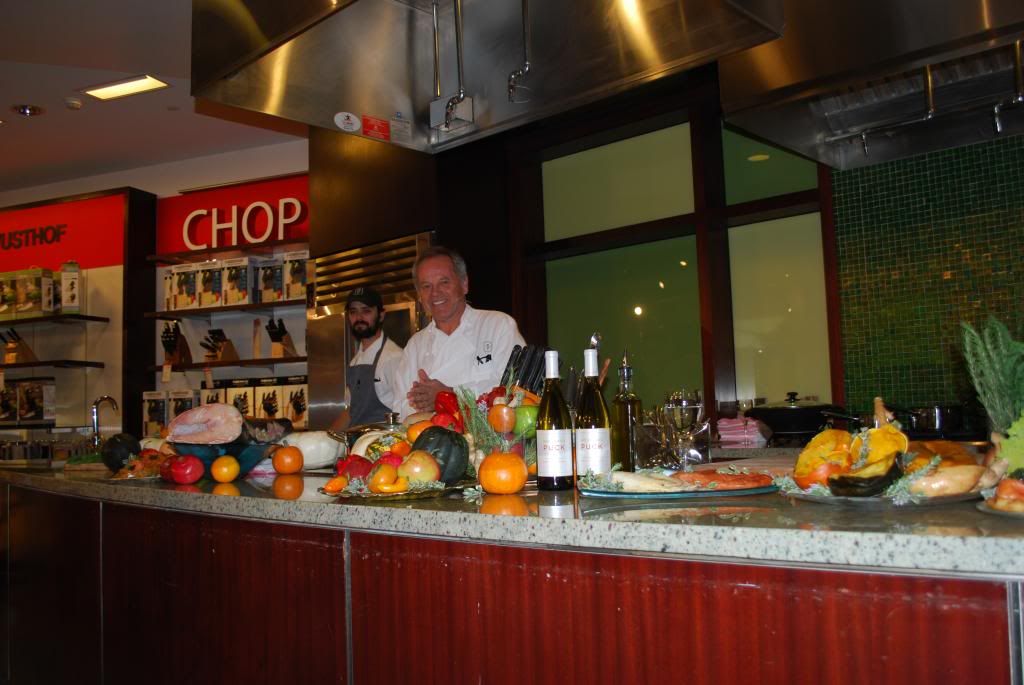 The Macy's Home store at South Coast Plaza is nothing short of fabulous. It features a full kitchen for demo purposes and all the designer appliances, dishes and furniture of your dreams. The demo area was already filling up even though we arrived a bit early. I was happy to find that we had seats in the front row and found myself giddy with excitement over the fact that Chef Puck was going to be less than five feet from me! I've enjoyed cooking shows for a long time and grown to love it myself so seeing him live was a real a treat.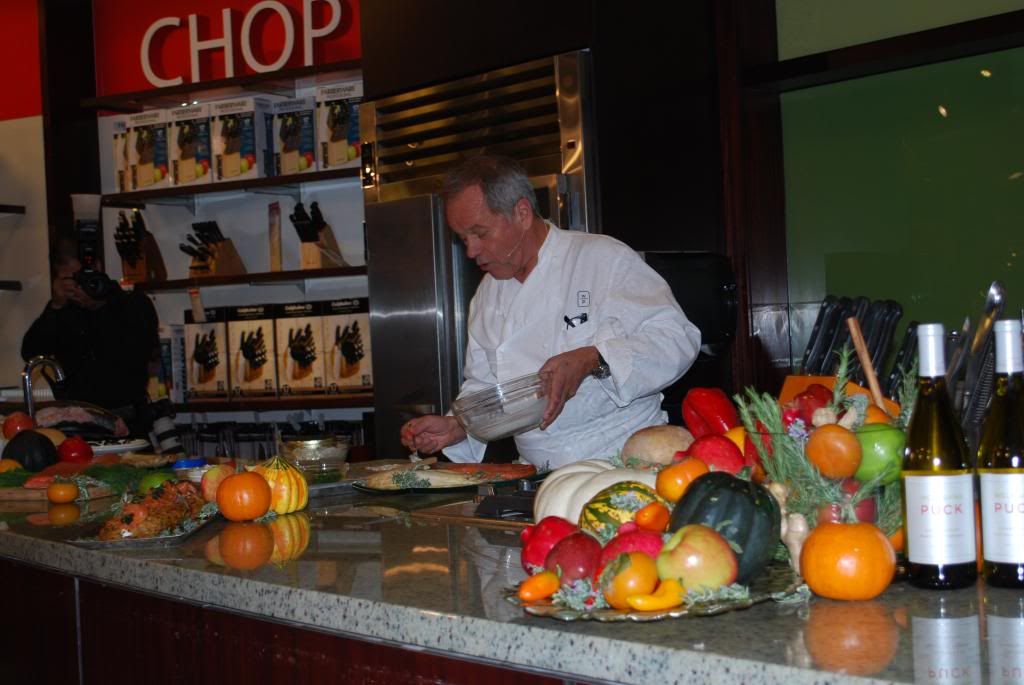 Chef Puck began by introducing himself and his sous chef and then told us briefly about the three dishes he was going to make. He was incredibly personable and amiable with the crowd talking to another young kid further down the way and asking if anyone had questions while he went about his work.
It was pretty cool to watch his knife work and see how deftly he handled the tools of his trade. To watch a master at their craft is art personified and a beautiful thing indeed.
While he prepped each course he told us stories behind the dishes and how he prepares them with his kids or adapts them for the season.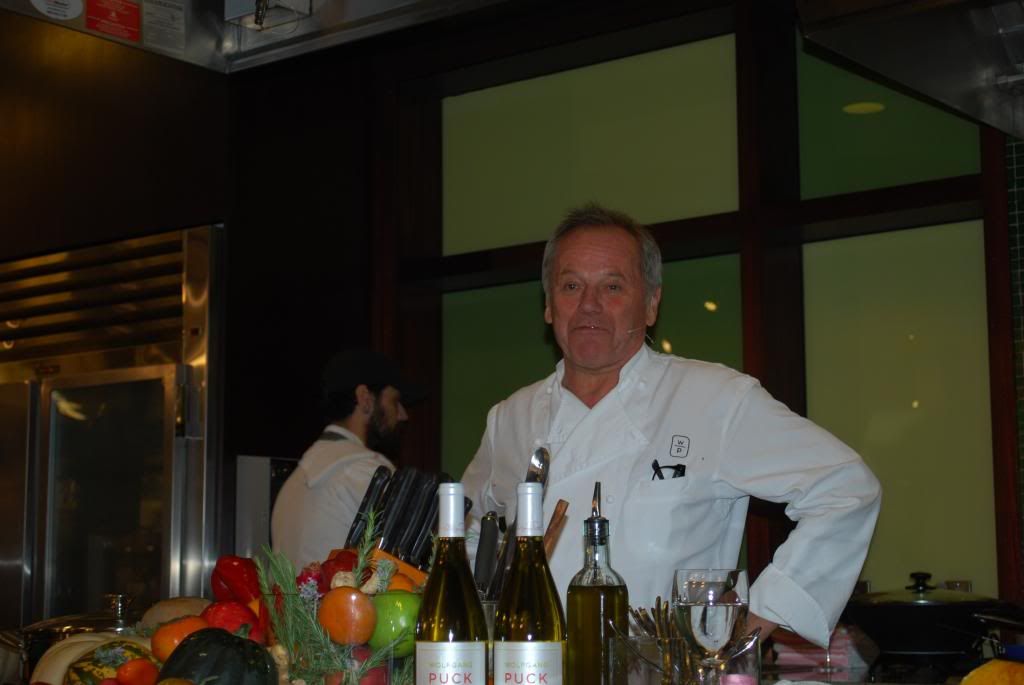 His first dish was a Crispy Potato Galette with Dill Cream, Smoked Salmon and Sturgeon and Osetra Caviar. I was for sure intimidated as was Sweet Pea. We don't really do fish and I'm sure I've never had smoked salmon nor caviar so that was a first. I took a full bite of everything, decided the caviar and fish weren't for me and finished off the galette. Sweet Pea was for sure sketched out but she put on a brave face and tried the galette. She ended up liking it with the dill cream sauce once I pushed off the fish for her.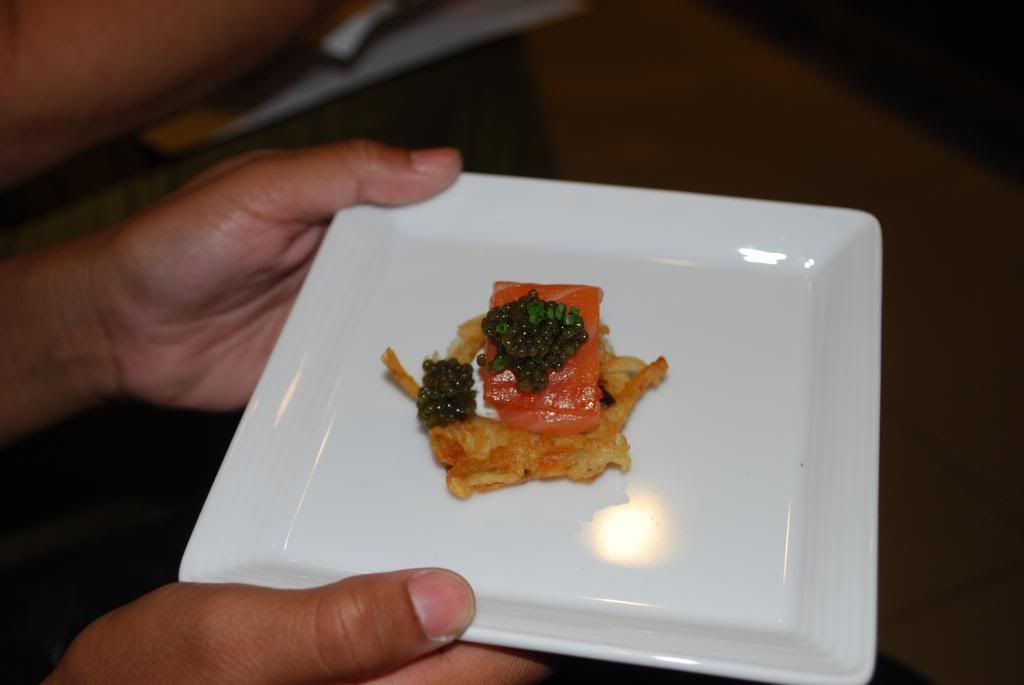 The second dish was a seasonally inspired Risotto with Sauteed Apples. Unfortunately my dish wasn't all that warm but it was pretty delicious nonetheless. I thought the apples were an interesting twist. Sweet Pea was not a fan. Oh well, at least she tried it. He gave some tips on making risotto, which I've only done from scratch once and that was in a cooking class. I usually use a box mix. It's terrible I know. But now, that I know a few tricks for getting it just right I am eager to try my hand at it.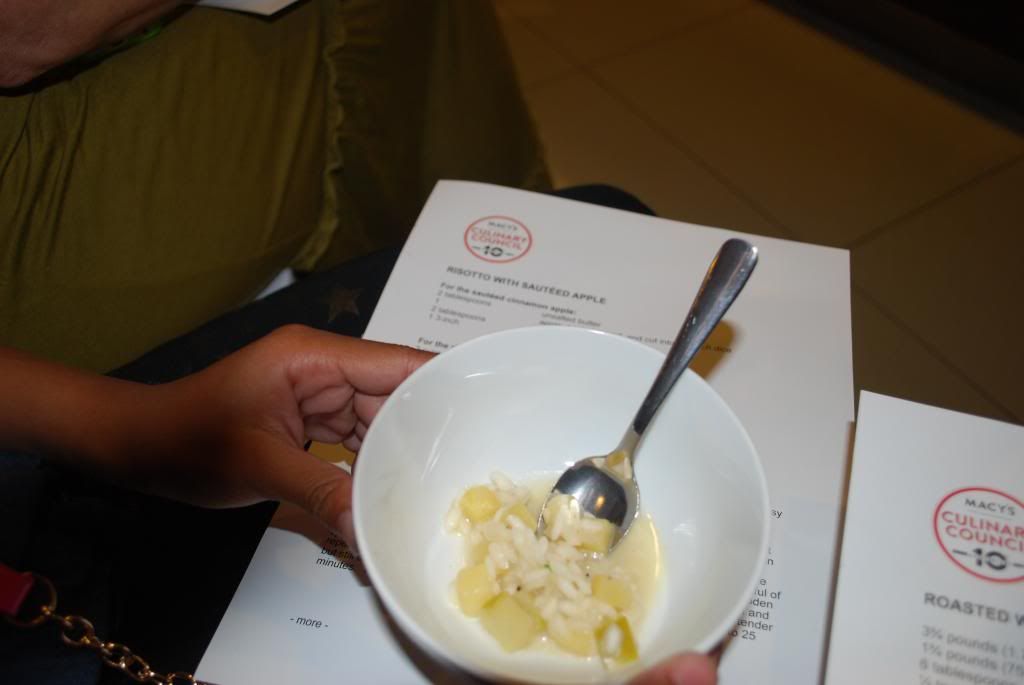 The final dish was a Roasted Winter Squash Soup with Red Bell Pepper Swirl. Even though it was still quite warm out, the soup hit the spot. I could definitely see sitting down with this on a cold winter's evening. Served with warm crusty bread, a glass of wine and perhaps using Chef Puck's own trick of using a previously roasted squash to serve it all in.
Makes my mouth happy just thinking about it.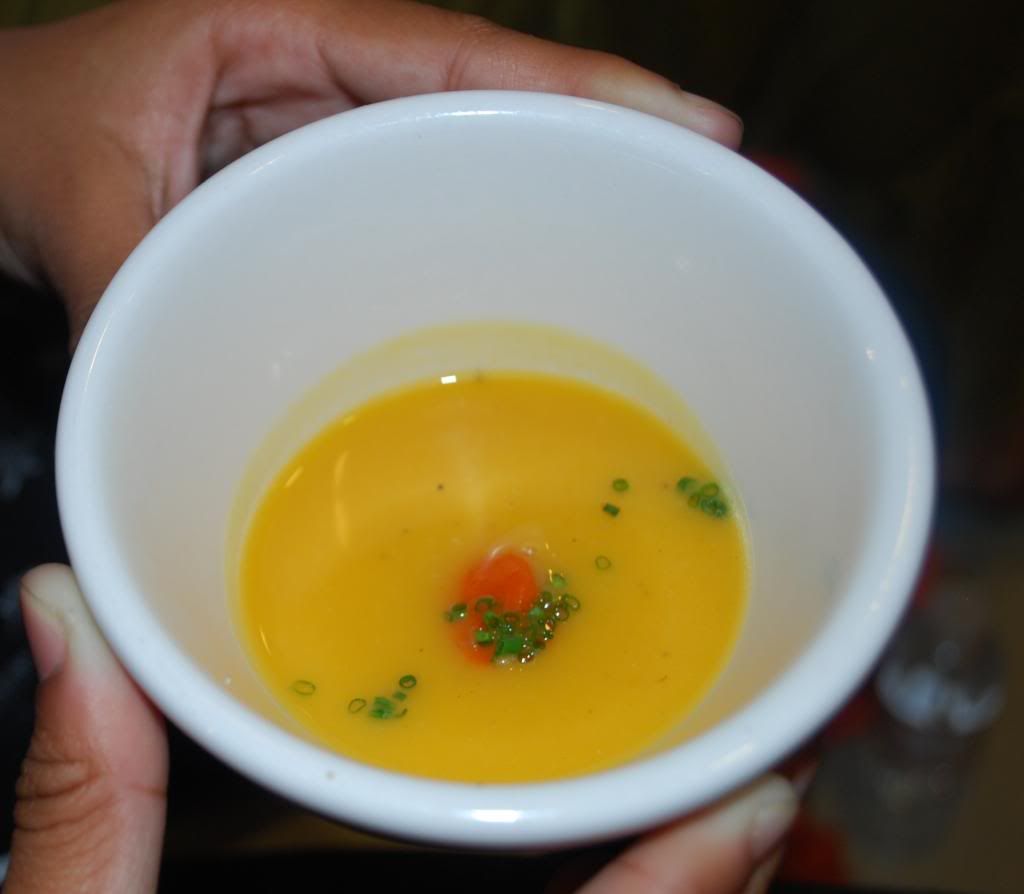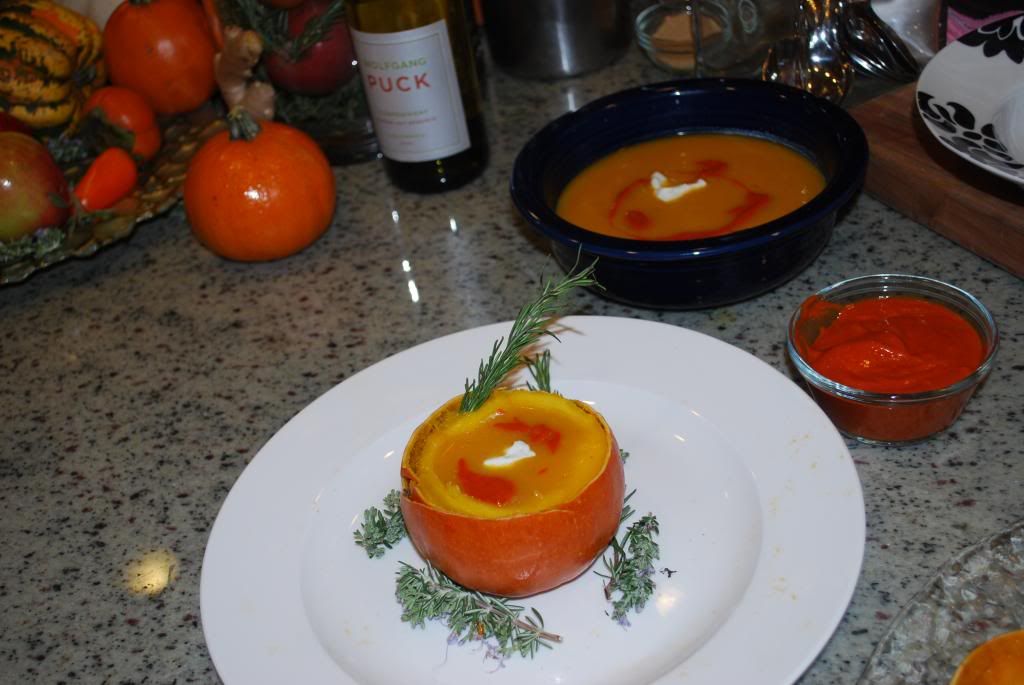 One of my favorite things was
how
he made the soup. After roasting the squash he used a pressure cooker and then followed up with an emulsion blender which meant he never turned on the stove and in under 60 minutes he had a kick ass soup. Sweet. Obviously the oven would have to be on to roast the squash but then that's it. I can get down with a dish that doesn't require me to stand over the stove.
He advised against over salting a dish to early on in the cooking stages and advised to simply wait until the end and season to taste, which I have for sure found to be true when making sauces and soups.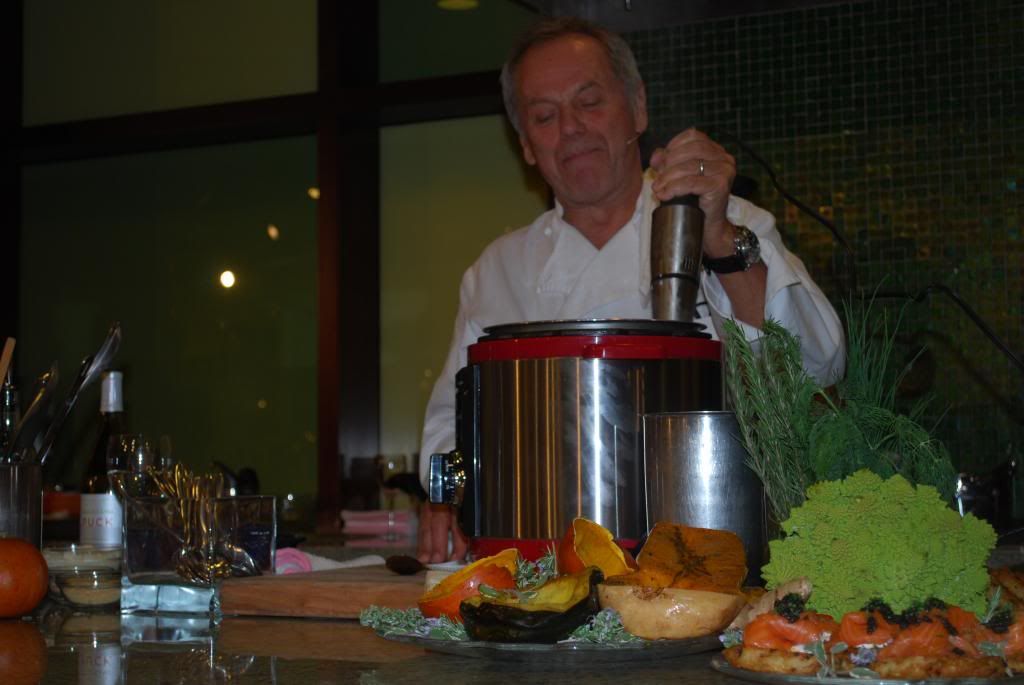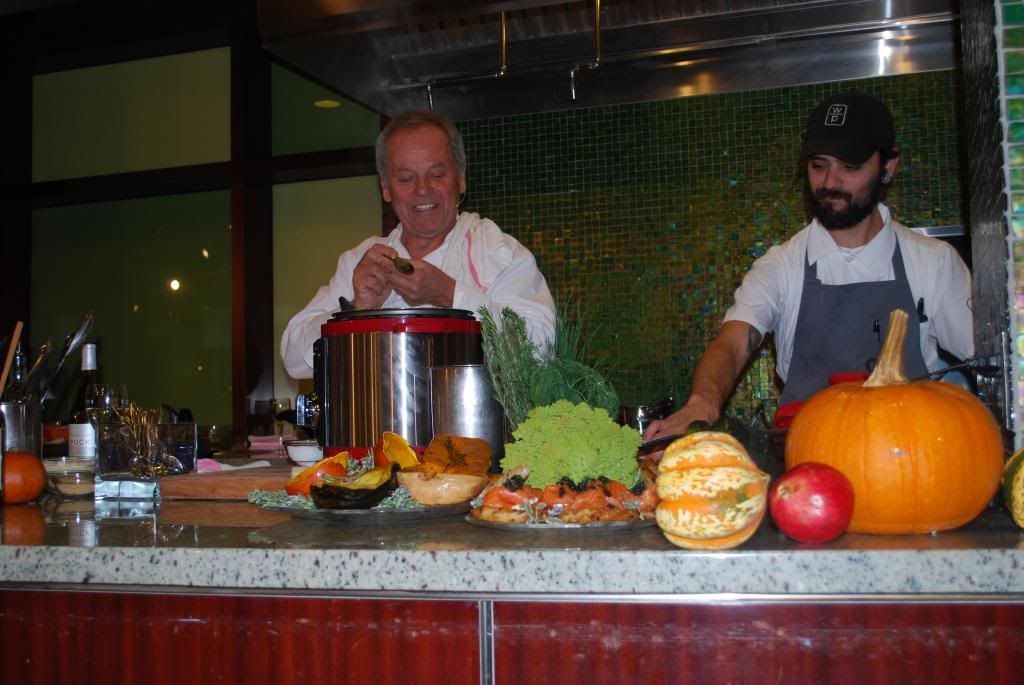 Afterward we were able to get some even closer pictures (front row perk) and even got in some one on one time with the chef! I mean! We actually had a lovely chat and I told him how I fell in love with c
rème brûlée
thanks to trying it at his restaurant once a upon a time ago and then he asked Sweet Pea if she enjoyed cooking and she bantered right back and I just about died.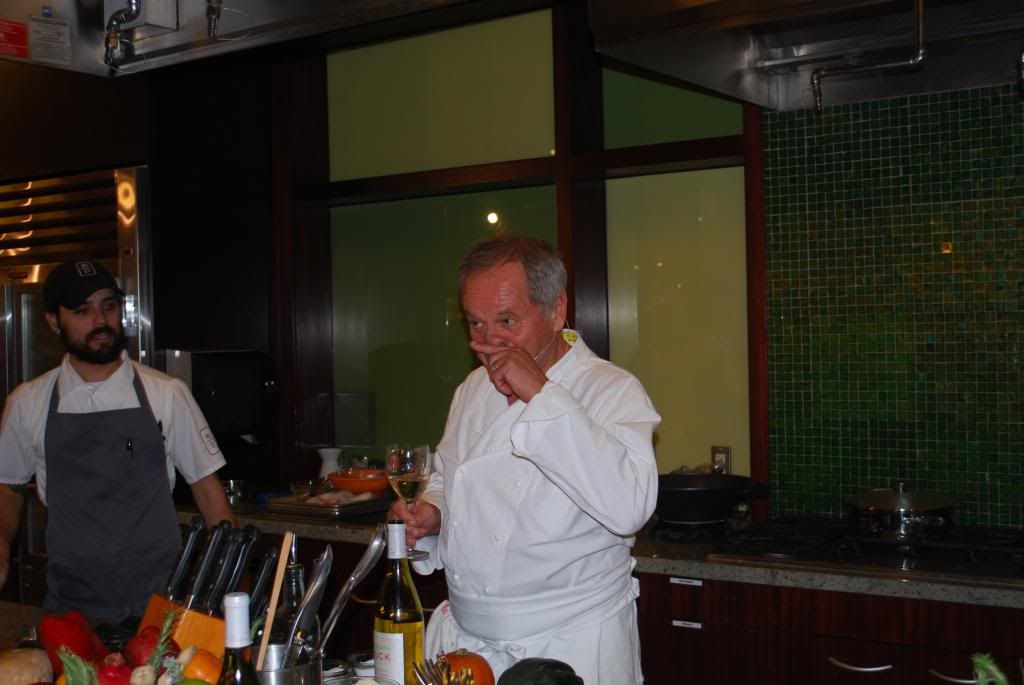 To make things even more exciting as we were leaving his sous chef stopped us and asked if the girl wanted a pumpkin from the set decor. She couldn't have been happier. As we were leaving she said, "Mom, how many people do you think can say they met Wolfgang Puck
and
got a pumpkin in the same day?"
Not many kid, not many.
And then this happened....and I died again. My street cred with the foodies was just kicked into high gear. Now I'm going to have to step my culinary game up.
"I am a member of the Everywhere Society and Everywhere compensated me for this post however, all thoughts and opinions expressed herein are my own"