Stay Classy San Diego
On a recent trip to San Diego I took to heart the concept of a working wardrobe, the idea that if you have the right pieces you never say "I have nothing to wear", and did some of my best packing to date.
I knew space in the car was limited and I was going to have to share some bag space with Carson so I outfit planned like a pro. The night before. I had ideas of what I wanted to take but didn't bother to confirm (or check) the weather until the evening before. Whoops.


I ended up taking only a few key pieces as I knew I'd be able to mix and match to create new looks to take me from each activity and day to night. I was actually pretty impressed with myself in how well I planned and paired all the pieces. In four days I managed to wear all but one piece and no one no was the wiser about repeat tops or bottoms.


Although, much cooler than our neighborhood, the weather was gorgeous with just the right mix of sun, wind and cloud coverage. I had originally planned to wear this top with my camo skinnies and put on a simple black tee but it just seemed like both the bandeau and tank needed to be paired with these shorts for some reason. It turned out to be quite the perfect outfit in my mind (and one I will be repeating often).


Because I packed pieces that were simple and I was excited about wearing, it definitely made it easier to get dressed each day. You might remember
these shorts
from Instagram (let's follow each other already! I'm
@fromcarpools2cocktails
) and how I was debating about keeping them, because it was so late in the season, even though I was kind of in love with them? Well, after playing around with a few looks I knew they were winners and was jazzed to wear them on vacation.
Since our hotel was right on the water, it only made since that I drag my little photographer outside for an impromptu photo shoot. Carson was napping and the weather was too gorgeous not step outdoors and enjoy it for a bit. The tank ( H&M ) is one of my favorite purchases of the summer and has made so many outfits come to life. Flat "Gigi" sandals made for easy walking around Seaport Village whilst pushing the stroller. A neon bandeau + belt and straw fedora pulled the whole look together.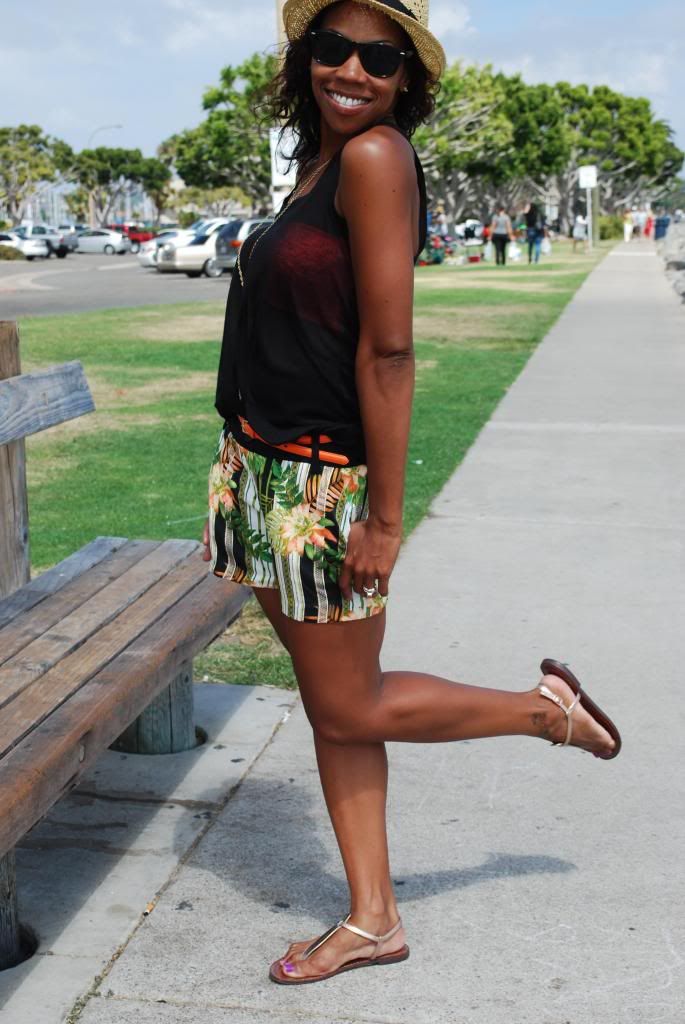 Outfit details - Tank: H&M (similar) / Shorts: Target (not available online - similar) / Sandals: Sam Edelman (similar) / Hat: H&M (similar) / Necklace: Heather Belle
This might just be one of my favorite outfits of the summer. The shorts are silky to the touch and add a fun twist to the shorts + tank /tee uniform. Upon returning to the hotel in the evening D remarked how much he had liked my outfit and that my shorts were "
really cute"
and my dad, (who was with me when the shorts were purchased) stated how they
"really chic and he loved how the look came together"
(seriously, where does he get this from?)
I love it when my purchases are not only justified by me but confirmed by my favorite guys. I'm really looking forward to transitioning this look to fall as well. I can easily see it paired back to ankle boots and a sheer top or sparkly sweater and strappy heels.
why yes my necklace did get caught on my boob......crazy wind.
Any last minute summer purchases that you're loving lately?