Let's Go Out To The Movies - A Night out with Macy's at an American Icon
We love a good night at the movies as a family but ever since baby ninja entered our lives those trips have been few and far between. Trying to get an active toddler to sit still at the movies is like brushing your teeth while eating Oreos. An exercise in futility.
So you can imagine how excited I was when The Everywhere society contacted me about attending one of
Macy's' American Icons summertime promotions. They're celebrating all the people, places and things that make us proud to call America home. This time they were hosting drive-in movie events around the country and a few just happened to be taking place locally.
It's been eons since I went to a drive-in

(like E.T. days)

and the kids had never even heard of such a thing so of course, I jumped at the chance for our family to participate!
"Stranded at the drive in......" (extra points if you know what that's from)
With the weather in the triple digits all weekend long it was the perfect evening to be out under the stars. The Electric Dusk Drive-In is a throw back to the days of old when my parents used to pile us in the car and watch a movie from the comfort of the trunk of our hatchback. Located off the beaten path in downtown Los Angeles, I would have never known about it had it not been for this event.
The kids had a blast getting balloon animals made, painting on the canvas walls and coloring. Sweet Pea got her whole face painted and Baby Ninja was very uncertain of what to make of it at first.
Oh and did I mention the IN-N-OUT truck was there?
And there was a cotton candy machine?
Yeah. Our favorite. A-MAZING.


After the games and food it was time for the movie to begin. Most everyone piled into their cars and others set up chairs on the astro turf (like us) and settled in for a screening of The Smurfs with a special preview of The Smurfs 2. I have to admit it was kind of magical. Sitting under neath the stars munching on typical movie fare of popcorn and candy. These are the kinds of things I want my children to remember when they look back at their summers.
I had already put Baby Bear in his jammie's so when he started to get antsy 20 minutes in, it was no big deal to throw him in the stroller and push him around 'til he fell asleep. As it grew colder and the hour later than we'd anticipated, we packed it up and headed on home.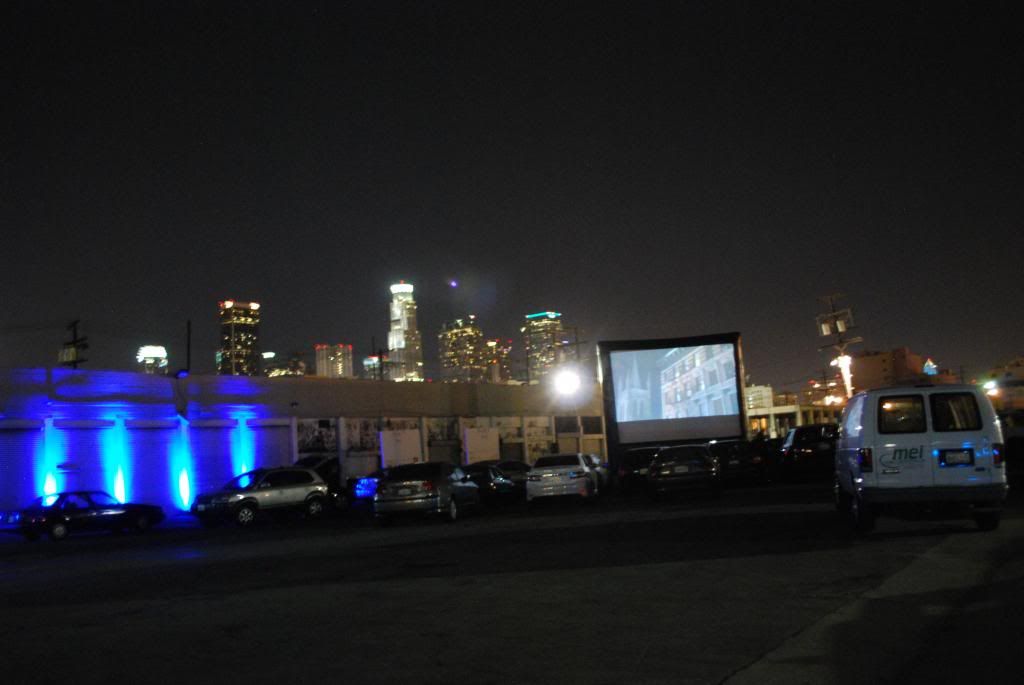 Although she was a bit bummed we left before the movie was over glancing back at the blissed out look on Sweet Pea"s face let me know she thoroughly enjoyed herself, regardless.
D and I had a great time as well and will for sure do it again.....especially since one of the prizes Sweet Pea won were tickets to come back to the drive in!!