Friday Happy Hour + A Winner!!!
Hip-hip hooray it's finally Friday!!
I am loving these summer weekends more than ever (late dinners, movies in bed with the kids, lots of giggles) so I am thrilled it's Friday yet again!
* The Mr. and I made it out for a movie date night last night and it was just lovely. I do so love having time with just him. We definitely need to get better at getting these things scheduled more often. We saw World War Z. I was up for hours afterwards.
* I shared a little about Sweet Pea's style, my rules and how we meet in the middle with a new
What SHE Wore
feature. I think this feature may become a regular occurrence.
* We've also been to the
drive-in
, got a new mattress and it appears Baby Ninja has some new teeth. It's been an exciting couple of days I tell ya.
*Slowly making it through my
"Dinner"
board on Pinterest and if you follow me on
Instagram
you know made this on Wednesday. I mean. YUM . My husband was super impressed. So was I. Full details next week.
* I just got a new phone so of course I spent the majority of the last few days with my head down trying to figure out all the bells and whistles. Luckily for me
WhoWhatWear
compiled a list of all
the best apps
I need. Thanks y'all.
* Monday I announced a giveaway with Seattle's Best Coffee to make up for being such a slacker blogger last week. Here's the winner!!
Stacy M
. for liking From Carpools To Cocktails on
Facebook
!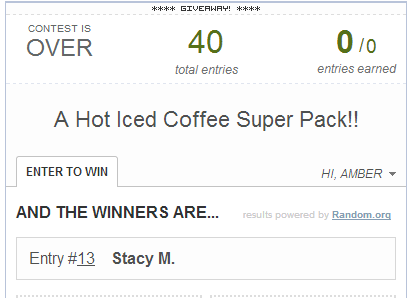 Congratulations Stacy!!
Shoot me over an email with your address and I'll make sure to get your coffee pack right out to you!!
********************************************
And from around the web:
* Because it's I'm such a junkie and it's
French Fry Friday
so calories don't count. No ketchup required.
* Somehow I'm just discovering
Man Repeller
has a
book coming out
. Think I might need to add this to the bookshelf as well.
* This weekend's libation is called a
Bold Berry Bling
and looks delightfully refreshing and light.
Easy enough to concoct with this week's farmer's market haul and the perfect drink to end a warm summer's evening on the 'veranda'. Oh and it's "skinny" if that helps.
Happy Weekending!