Life + Style // How To Look Hot In A Minivan - Part One
One of my birthday presents was a gift a card and I wasted no time in putting it to use whittling down my Amazon wish list. I am somewhat of a book hoarder and I have no problem adding to my collection. Much more of an issue letting go of said books, especially if I
loved
them. My dream is to have library of sorts in our 'forever home' and if we can't have a dedicated library then we will need lots and lots of bookshelves.
Reading is one of my biggest passions. I love the insight, escape and knowledge you can glean from a book and adding to my bookshelf is something that brings me great joy. Also, who doesn't love getting mail from Amazon?
I got a total of four books last week and they for sure ran the gamut of topics from lifestyle to humor and I had a hard time deciding which to start first. If you follow me on
Instagram
you saw photos as they arrived and I shared how excited I was about them all.
Normally, I would start two at a time and think nothing of it and years ago it was easy for me to do that and knock them both out in a week's time. Not so much with Baby Ninja tornadoing through the house. So, I decided to focus on just one at a time. A rarity for me, but reading is a luxury I refuse to give up so focus I must.
I chose to start with
How to Look Hot in a Minivan
by Janice Minn, former editor in chief of US Weekly magazine.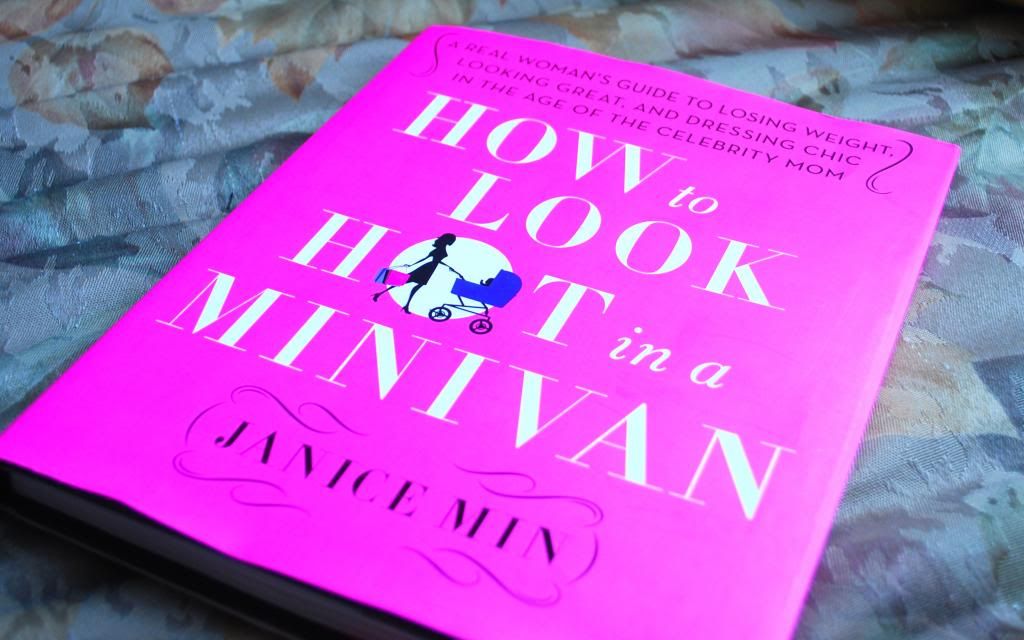 I'd seen this book a while back on some morning talk show and loved the title but somehow forgot about it (baby brain) until I was scrolling my wish list and found it nestled between the Mi Vida Loca (my crazy life) DVD and a T-Bar Bangle Jewelry display.
I have to admit I was jazzed about it since it pretty much operates off of my whole philosophy of taking care of yourself as a woman and being cute while carpooling and taking that same look up a notch for that evening's cocktails.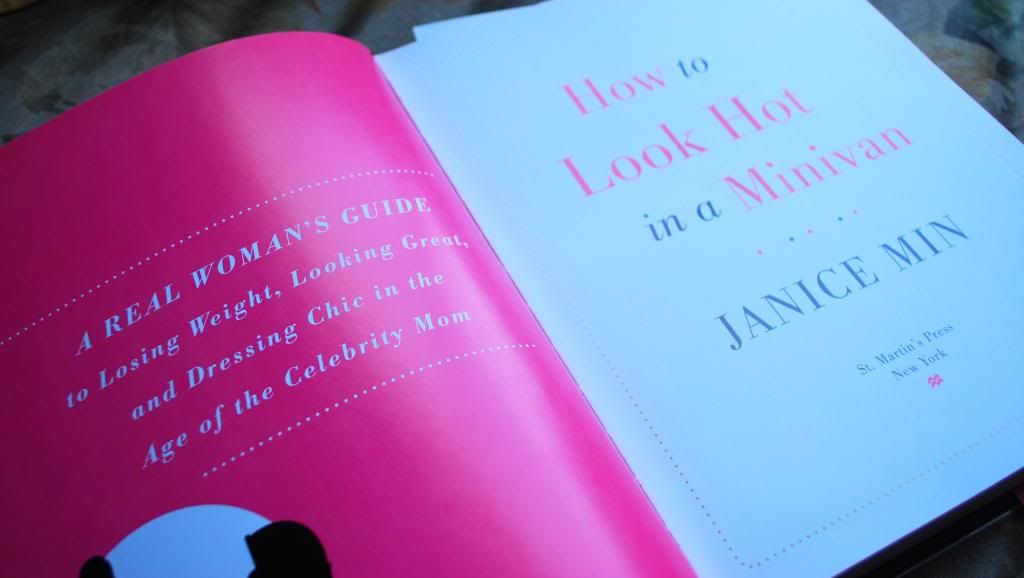 I loved Janice's witty descriptions of her reaction to her postpartum body and her self deprecating anecdotes make the book quite relate-able even though it's clear she has money and therefore access to the some of the best
Not like Gwyneth money but money none-the-less.
I've broken the book up into two parts chapters 1-4 and then chapters 5-7. Here are a few of my highlights from what I've read.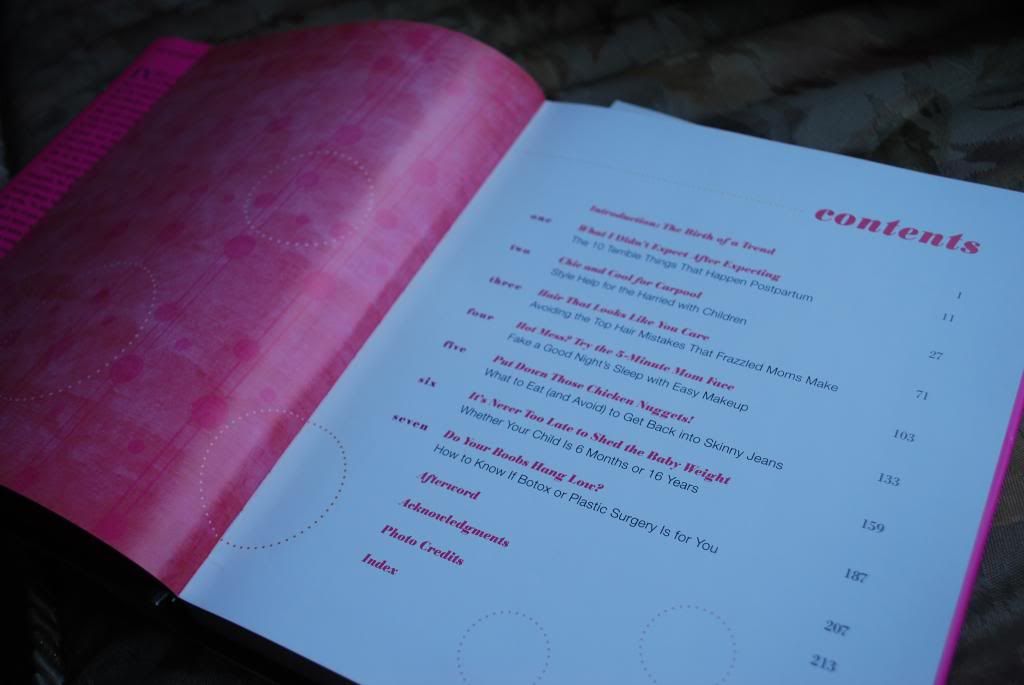 The first four chapters are mainly dedicated to the postpartum woman's overall style. From clothing to hair and makeup it's pretty much all covered. The chapters all have cheeky titles like
"What I Didn't Expect After Expecting: The 10 Terrible Things tht Happen PostPartum
" and "
Hot Mess? Try the 5-Minute Mom Face: Fake a Good Night's Sleep with Easy Makeup
". After reading that I knew I was in for an entertaining look at women's 'mama style' how it's evolved and how the 'every woman' can achieve the same polished looks as the celebs. Sort of.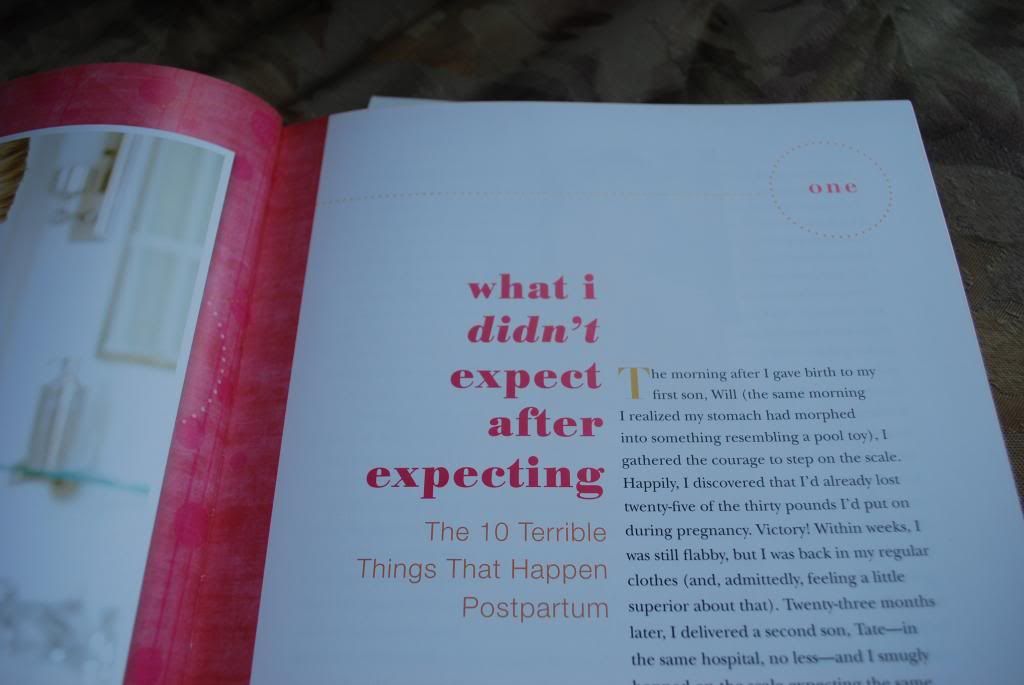 I was twenty nine pages in when staring me in the face was pretty much the entire concept of this blog name. I mean. It was like kismet.
While chapter one highlights some of the more 'ahem' interesting after effects of pregnancy
(saggy boobs, muffin tops, stretch marks oh my!)
Chapter two was all about style and what I like to call "Mommy Chic".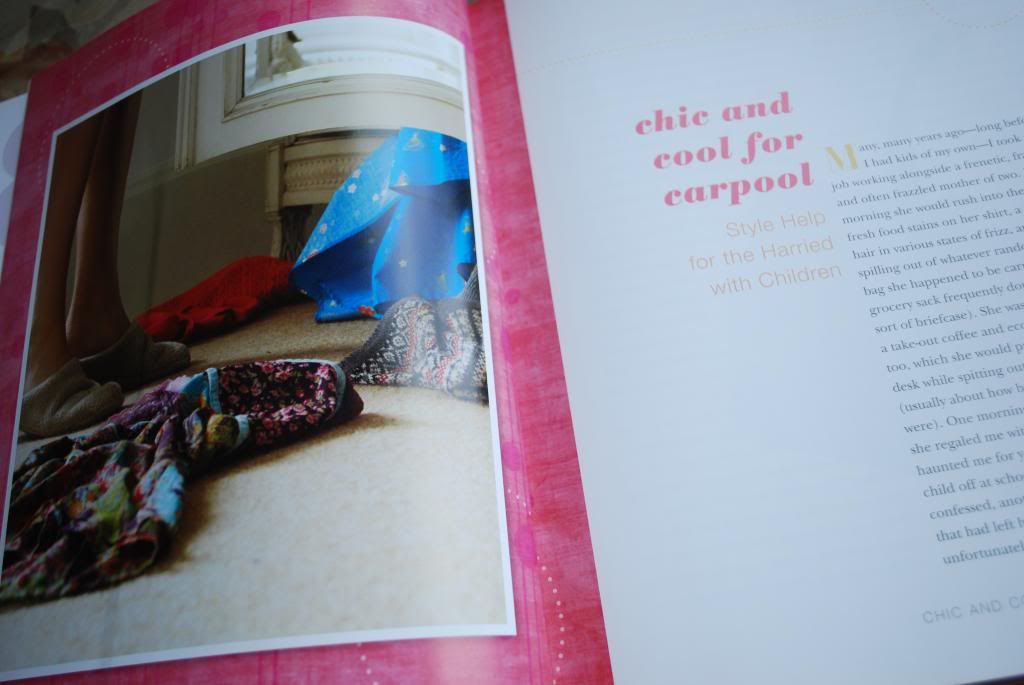 Janice talked about the importance of having a working closet with the essentials that can be mixed and matched effortlessly. Of course it wouldn't be a chapter on style with out showcasing some of the most stylish celeb moms and being that she used to work at US Weekly and has seen her share of hot mess mama vs. polished mama, I'm inclined to agree with her choices.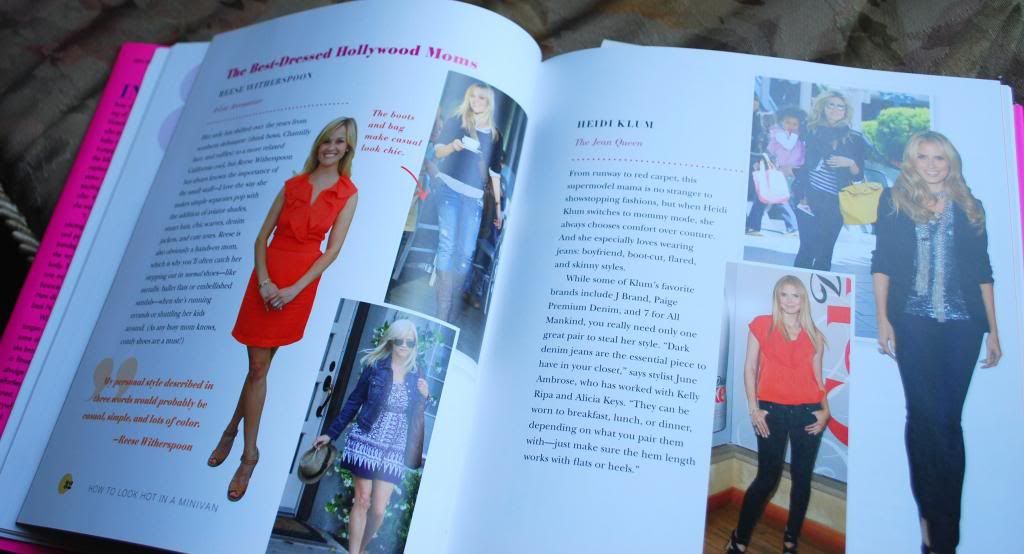 Personally, I would include Jessica Alba and Nicole Richie as they both have that cool mom style down to a science. She also detailed the 10 stylish essentials every woman needs to get her through a week. Again, I'm pretty inclined to agree with this assessment as well and as I was reading I was mentally going through my own closet checking to see what I'm missing off the list.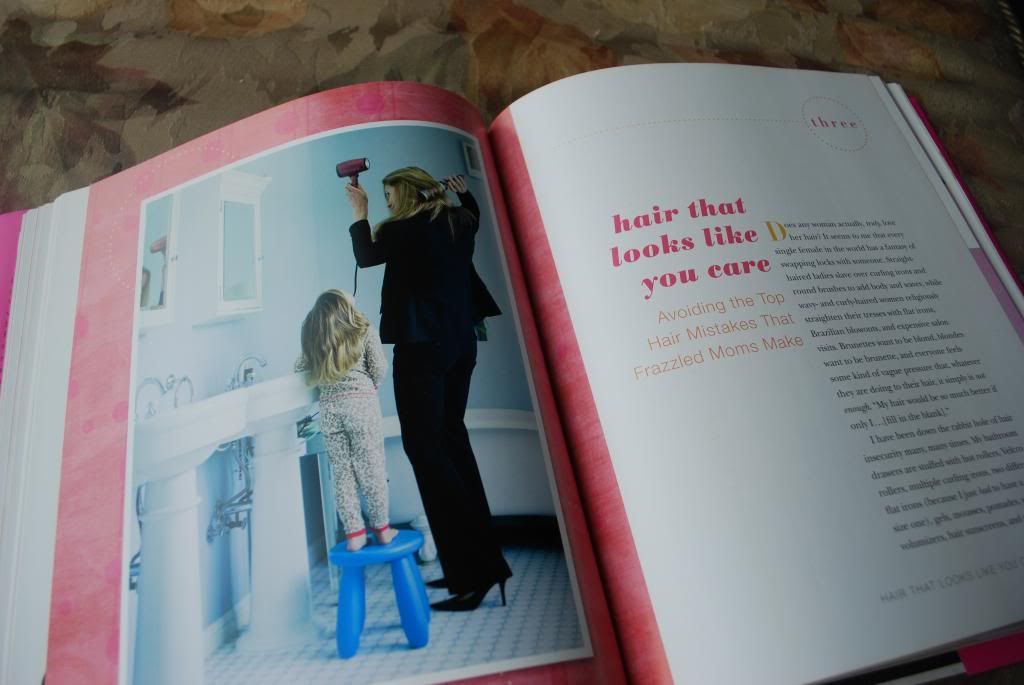 I also loved that there were several pages dedicated to hair care and quick fixes. I mean, how many of us have had to throw on a raggedy baseball cap for morning/afternoon pickup thanks to an overdue trip to the salon? Tips on the simplest cuts to work with as well as hair coloring tricks. The advice on hair styling was practical and true. Info provided for the top products to have your hair looking good everyday and not spend a small fortune.
I was delighted to find a full six pages dedicated to 'black hair care', however, I was kind of sad to see that there were no photos of celebs with 'natural' hair and the first image was the typical of Halle Berry, but the tips were helpful even if they were the somewhat vague standard tricks offered in fashion mags the world over.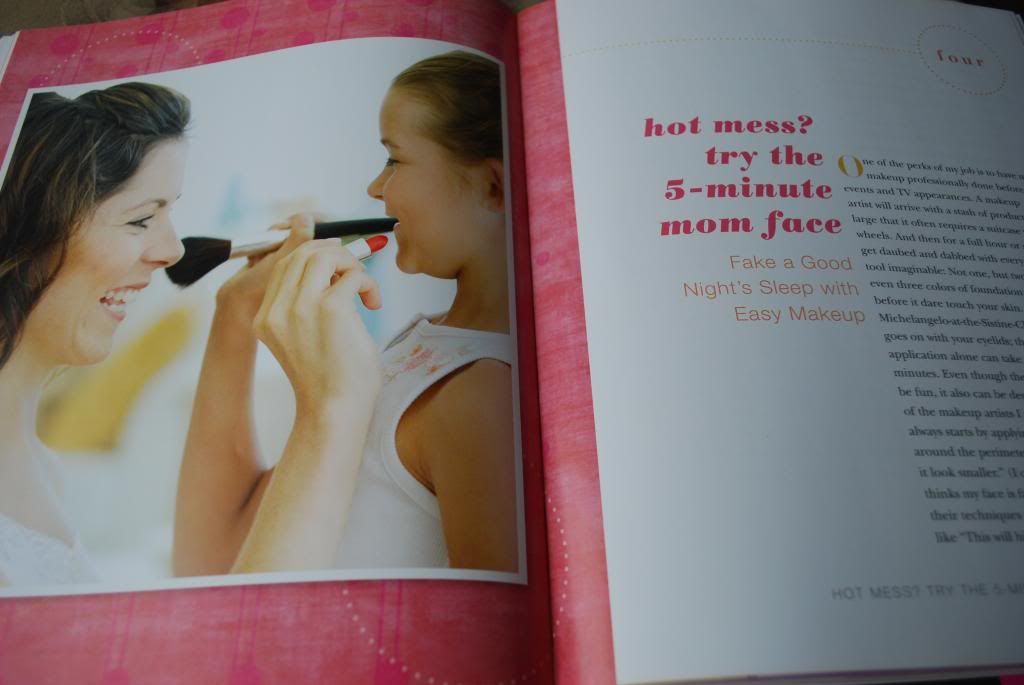 As far as the beauty section goes, well, I have to say as a makeup artist
and
busy mom, I fully agree with the
5 - Step Face Fix
and the '
Old Mom vs. Modern Mom
'. Most women don't realize how much their makeup and hair can age them. I understand you've been wearing the same style, look, color for years and it's worked but sometimes you gotta switch things up to see what's what. She also discussed skin by age which is also another factor. If you're wearing the same makeup are you still doing the same skincare routine? How you treat your skin has a direct reflection on how well your makeup holds up so if you've been holding on to the same type of face wash since 1999 and still find yourself battling with the same problems it might be time to switch things up.
Especially
if you've had a baby.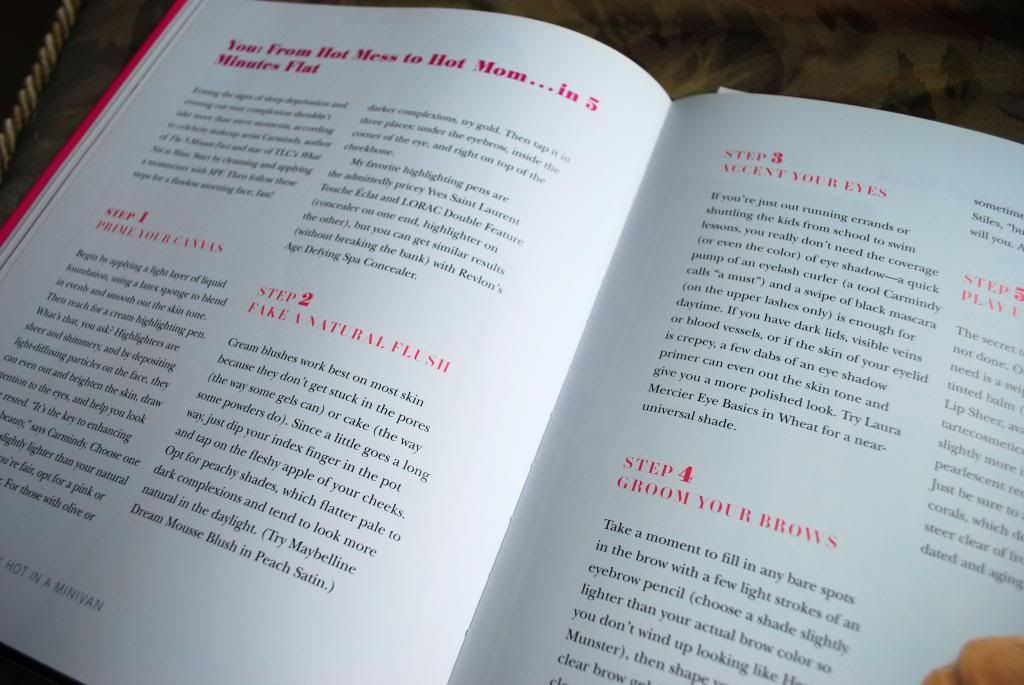 The book also provided a list of their top 20 beauty products for every day and they offered a few splurge vs. steal options. I must say that although a few products are quite pricey
(Yves Saint Laurent Touche Eclat $40)
they are totally worth it in the long run.
The next several chapters seem to focus on food/health + fitness + plastic surgery/botox. She is writing about the celebrity momspiration after all. I mean.

Check back next week for the wrap up on those final chapters and in the meantime, I'd love to hear from you!

What does your daily beauty routine look like? Have you found yourself falling into a 'mommy rut'?