Dressing Room Diaries // If These Walls Could Talk
It's no secret that I enjoy shopping. I truly do. The thrill of hunting for a particular item, the rush of finding it in one's size (and on sale!!) and the joy of getting it home and playing dress up to justify the purchase. It's all fabulous. Except one very important thing - the trying on of the things.
I really don't like trying on clothes already. Trying on clothes with a toddler is a horse of a completely different color.
Which is pretty much why I'm obsessed with the convenience of online shopping. That and I love to get packages in the mail and my UPS guy is super nice.
But as a mother, shopping is pretty hard to do with the kiddos in tow. Sweet Pea is pretty good about hanging out and trying things on as she generally grabs one or two items to 'dress up' in and enjoys the act of getting new clothes. Baby Bear is not so excited. He loves to be in a cart in a store (mainly so he can grab at shelves normally out of his reach) but to sequester him in a room with nothing to touch or grab? He's not always a fan which is not the ideal situation when trying out new looks and trying to commit to something.
In the past few weeks I've hit Nordstrom Rack and T.J. Maxx with the kids in tow and each trip was a sartorial success! Mostly because all the items I tried on were on sale and looked good but no one had a major meltdown (me included) so that helped.
A few tips for shopping with small people?
Keep it short and sweet. I don't stay in any store longer than an hour max (grocery store excluded) to ensure we have no massive meltdowns. I also limit the number of items I'm trying on so it doesn't get ugly once we find ourselves in a small space.
why yes I did take him to Target in his jammies and house shoes. Aint no shame in my game!
Timing is everything and I tend to hit the stores after Baby Bear's first nap that way he's pretty much guaranteed to be in a playful mood and will happily enjoy a ride in a cart or cruise in his stroller. This also includes factoring in how many other people will be trying to get their midday shop on as well. And unfortunately for me, once school lets out for summer the odds of getting to shop solo are slim to none.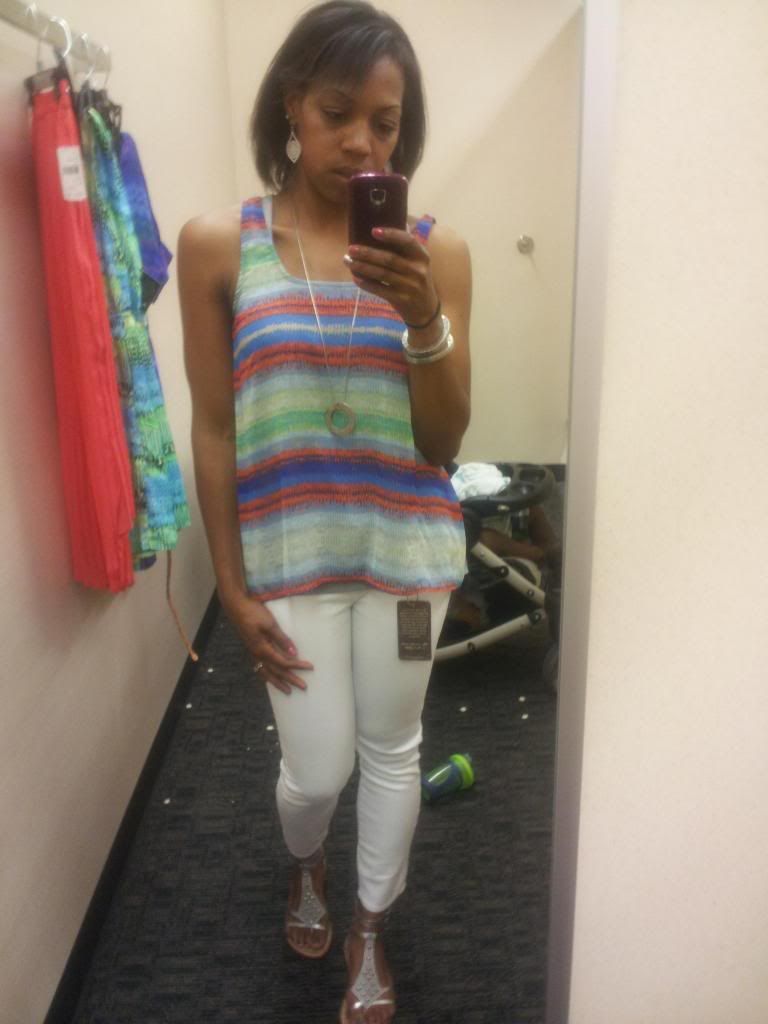 Have snacks on hand. Everyone gets hungry when they shop. I think it's all the cardio you get in racing from one end of a store to another and then rushing to the dressing room.
Baby Bear gettin his snack on
Either way having snacks is beneficial to both mother and children, gives them something to do and you have a nice treat while waiting in line! Toys are also good but I have to keep in mind that we are in the midst of the throwing game and aint nobody got time for that!
cup & snacks on the ground....time to go!
Know what your looking for before you go. Particularly in stores like The Rack or T.J. Maxx, there is so much stuff that you may have to dig a bit to find that hidden gem. Now, I like to 'cruise' a store as much as the next person but I know that if I have Baby Bear and Sweet Pea I am basically on borrowed time. I try to do a visual lap of the store before I commit to a section and then quickly (but methodically) tear through there while doing whatever is necessary to keep Baby Bear entertained and pleasant.
you can see the boy in the background begin to get bored
Also, if I know I'm going to be trying on clothes I try to plan my outfit around that (a dress or a simple tank & jeans) to maximize my 'try on'. Nothing worse than trying on a skirt or pants and having no top to pair it with to get the full look!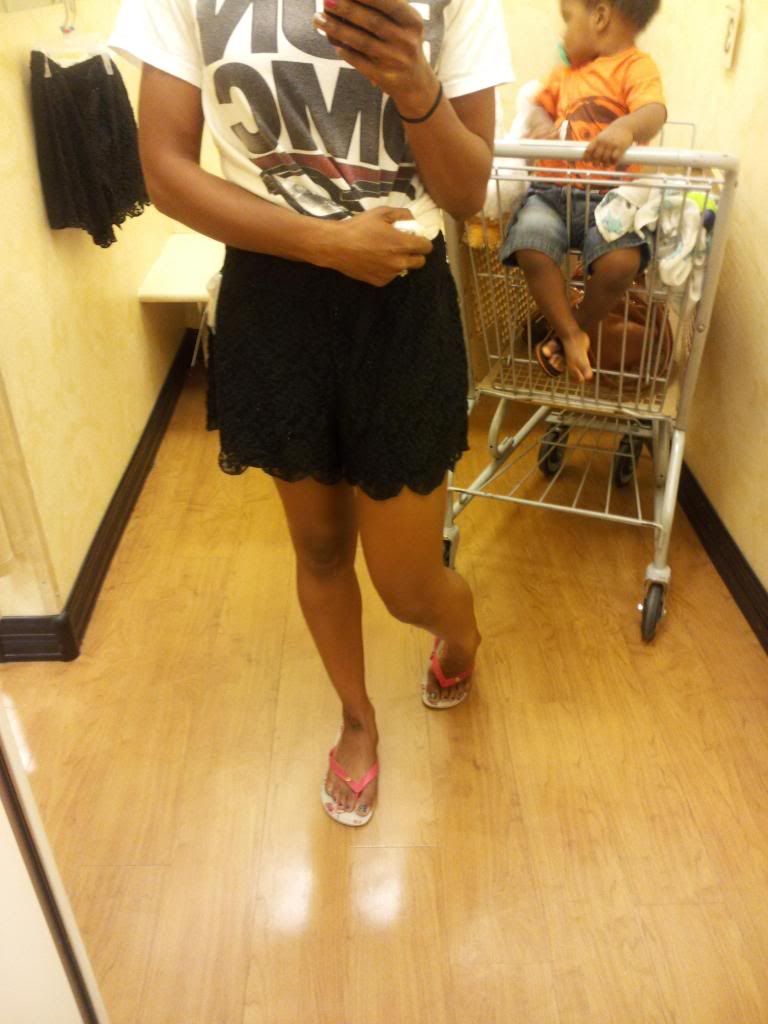 this RUN DMC tee was not the best for trying on the feminine lace shorts
I got really lucky with this month and am so utterly happy with my finds I can't even believe my good luck. I'm pretty much done with spring/summer shopping for myself (minus a new bathing suit + makeup) and will now focus my energies on getting the kids and D some great looks for the season.
What have you bought lately that you're still swooning over?