Sunday Social
My brain is fuzzy because I got to sleep in !! What the what!?
The Mr. got up with Carson and got him situated with breakfast and whatnot so I could grab a few extra z's. The time change must've confused the boy because he went down for a nap early.
So now I have time to join in the Sunday Social that my girl
Katie
does each week. I usually want to but don't always have the time.
Today I do.
Winning.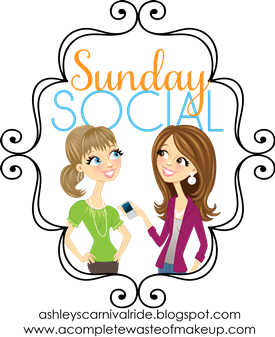 Questions:
What is one movie you are terrified to watch?
Pretty much anything scary. House at the End of the Street, The Strangers.....all that ish....you can count me out!
What is one TV show you have always wanted to get into, but haven't yet?
Hmmm.....not sure. The Mr. watches a variety of shows but I don't really commit to any one thing unless I'm super moved. Nothing really on my list right now.
What is one daring activity on your bucket list?
I don't know that it's so daring....I'd like to travel to Europe I think. I never wanted to go before but I'm super intrigued about all the history.
Oh and go skinny dipping while there. You only live once right?
Would you ever travel alone?
Yes! I'm going to Dallas next week all by myself for Blissdom! It's been awhile since that's happened so who knows what's in store. If you see a story about a woman weeping tears of joy after sleeping
solidly
for 3 days.....that's me.
What activities do you like to do alone?
Is this a trick question?? Shop of course. It's amazing what you can get done/ pay attention to when you don't have a tiny person in tow. I like to read and get my nails done. There is something about having that quiet time while someone pampers you that is just good for the soul!
What are y'all up to this Sunday?