Sold.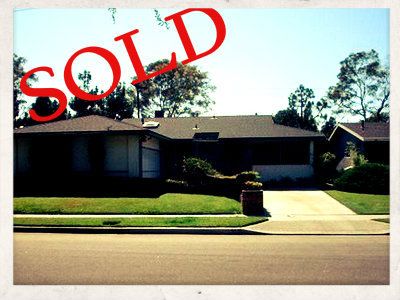 My parents received an offer for their house.
They've accepted it so it appears escrow will begin sometime this week.
This is absolute craziness to me. It hasn't even been on the market that long and the fact that there was never a sign up or anything feels even stranger.
I'm happy that this is all about to be behind them and everyone will now be able to really move forward. But, I have to admit, I have some strong emotions about this whole sale thing, that I didn't think I would have.
This is my childhood home. The place where I grew up and spent the better part of my teen years trying to escape. My sanctuary and my hellhole. The place where I first discovered my voice, my love to dance around in my room, my passion for literature. Where I first fell in love, whispering into the phone late into the night. The place where I shed tears of heartbreak for loves lost and friends departed.
So much of me is in that house.
It frustrates me a bit as my mom seems to be lolly-gagging on the packing situation and part of me doesn't want to understand why.

( just put it in a box! jeez!

) But then I think for a minute and realize, this must be tough for her as well.
She is leaving her home for the last 34 years. The home I have spent the last 10 years running away from. The home with all it's memories. The walls full of the history of our lives. The ups and downs. The confusion and chaos that came from raising two kids and trucking our things back and forth between the houses. A house where many a Christmas and pool party was enjoyed. Where squealing children frolicked and laughter reverberated against the walls. It was the place to be during my childhood.
I can see how packing it all up would be overwhelming and stressful. I get all panicked just thinking about the staggering amount of miscellany. Yes, I can't imagine what she's feeling. What my brother's feeling. Knowing that when he comes home in a few months both of our parents will have moved on from what we've always known as their homes. My dad just bought a house of his own not to far from where he currently lives.
Everything is in flux around here. It's a good and bad thing. Demons are being exorcised along with the remaining clutter and there seems to be an underlying air of peace with the decisions being made.
Being the optimist that I am, I see the good in all of this. Getting rid of this one last thing that was hovering over, not allowing them to totally move on from the official ending of their marriage. But now, it's about to be done with the signing of several stacks of papers.
Such a simple thing has such a huge impact. The closure everyone desperately needs but is having a hard time coping with now that its come to fruition.
The effects of life that happened within those four walls remain in all of us and we are forever bound to that address.
The end of a life it may seem but also the dawning of a new era. One in which I'm sure will be filled with new memories in new spaces. Still filled with love, children's laughter and family. That is after all what is most important. The new memories will replace the old and the younger generation will spur on the previous ones to relax and enjoy each precious and fleeting moment.
For sale and now on it's way to be sold. This journey has been long and not without obstacles but now that we are on the other end, the light beginning to shine into our tunnel, it feels as though all is right with the world.
I can only hope the next owners enjoy it as much as we did.